Doshisha University Imadegawa Campus Ryoshinkan and Shikokan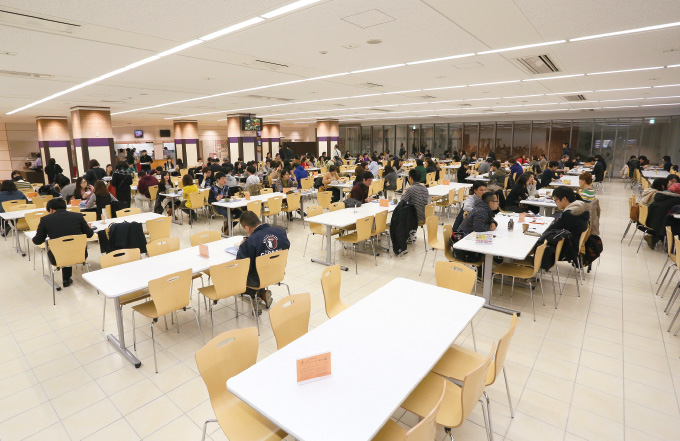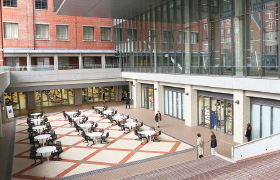 Take the stairs down to Sunken Mall's basement.
Starting from April 2013, all undergraduate students of humanities and social science majors are concentrated in Imadegawa Campus. Imadegawa Campus has 8 undergraduate faculties and 10 graduate schools, while Kyotanabe Campus has 6 undergraduate faculties and 6 graduate schools.
Because of this new structure, Imadegawa Campus now holds around 20,000 students. Thus, Doshisha Co-op also moved some of its stores, which were located in three places, to Imadegawa Campus. Dining hall, convenience store, housing agency and co-op members center are now located in the basement of Ryoshinkan called Sunken Mall, occupying an area about twice larger as before.
In addition, we established new facilities, i.e. dining hall (around 480 seats), lounge and bakery café in Ryoshinkan, as well as a convenience store in Shikokan (Shikokan is a symbol of international principle, one of Doshisha University's teaching philosophy).
Sunken Mall is directly connected to north exit of Subway Karasuma Line Imadegawa Station, which makes it convenient to commute even in rainy days. We are aiming at creating an atmosphere where people can enjoy a moment of rest at our stores in Sunken Mall inside Doshisha University, which coexists with the community.
Ryoshinkan, Opened in November 2012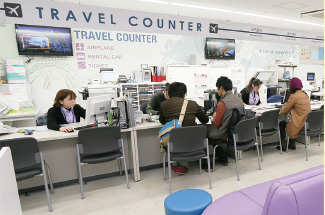 Travel and services.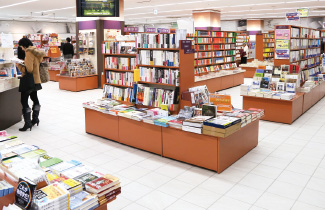 Bookstore and general store.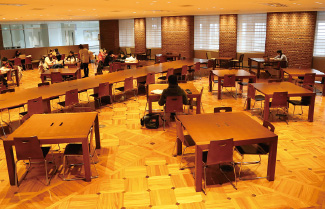 Bakery café.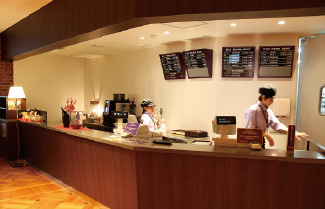 Imadegawa Member Center.
Convenience Store and Café at Shikokan, Opened in December 2012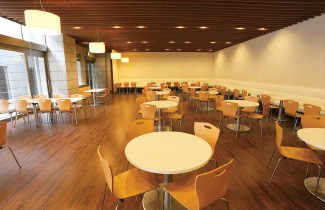 The adjoining wide lounge.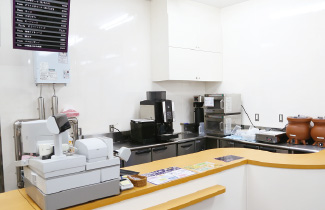 Offers bread, drink, soup and snacks.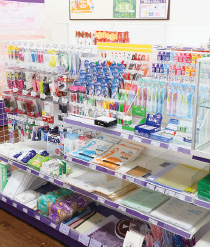 Purple, one of the two school colors, looks attractive.
Brief Profile
Location: Kamigyo Ward, Kyoto City
Faculty: Faculty of Theology, Faculty of Letters, Faculty of Social Studies, Faculty of Law, Faculty of Economics, Faculty of Commerce, Faculty of Policy Studies and graduate schools (Imadegawa Campus)
Population of Imadegawa Campus: 20,000 people
Ryoshinkan Dining Hall
Opened in November 2012.
Floor space: 613 ㎡ (around 480 seats)
Hours: Weekdays 08.30 – 20.30 (weekdays), 10.00 – 18.30 (Saturdays), closed on Sundays and public holidays
Average number of users: 1,800 people/day
Ryoshinkan Stores
Opened in December 2012.
Floor space of bookstore and general store: 574.5 ㎡ (bookstore: 489.0 ㎡, general store: 85.5 ㎡)
Floor space of travel and service center: 98.5 ㎡
Floor space of convenience store: 213.6 ㎡
Floor space of housing agency and co-op members center: 70.0 ㎡
Hours: Weekdays 10.00 – 19.00 (weekdays), 10.00 – 15.00 (Saturdays)
Average number of users: 1,100 people/day