Konan University
Okamoto Campus Bookstore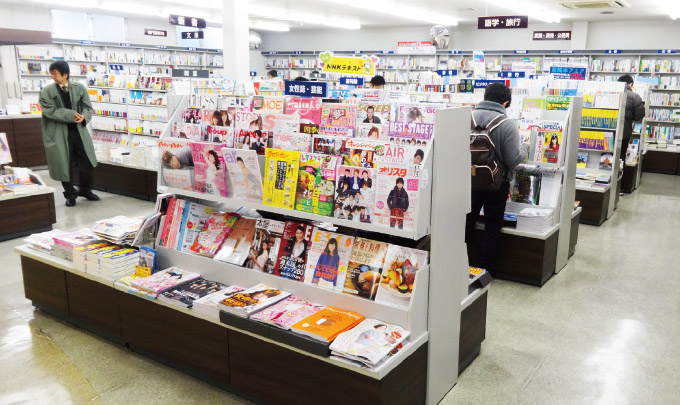 Members can find books more easily since the shelves are now placed by categories and the aisles have become wider.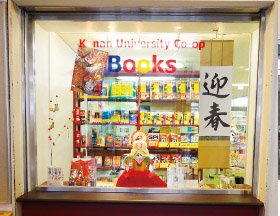 The interior can be seen from the display, which raised expectations of the bookstore.
One year before the reopening of Okamoto Campus Bookstore, the staff underwent training and meetings, discussing about the bookstore concept. With the hope of becoming a bookstore that supports co-op members and faculty members, as well as a bookstore that establishes its presence in the university, we began to put efforts in the renovation based on the following three concepts:
1) Knowledge: A store that offers intellectual pleasure.
2) Encounter: Setting the stage for members to meet books.
3) Challenge: Aiming at the assortment of products that can support students in their exams and qualification acquisition.
Before the renovation, the store entrance was used as the sales counter of textbooks. After the renovation, a large glass is attached to the entrance, and it becomes a display that shows a sense of the seasons and popular topics. With the new display, anyone can see the inside of the store. It created a bright and spacious feel of the store.
We also reduced the number of shelves and made the aisle larger. This enables us to present the books in an easy-to-understand manner according to areas. We also made a special corner for special events near the entrance to distinguish the new bookstore from the old one.
After the renovation, we heard voices from the members that the store is now brighter and wider. The new display becomes the subject of talk. The new arrangement is conducive to more sales of new books by the faculty members.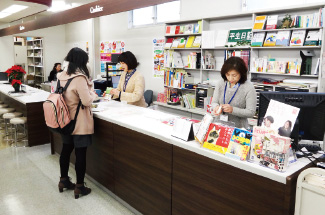 Service counter that provides various services.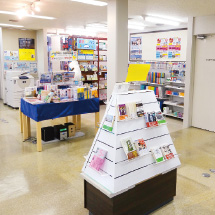 An eye-catching special corner to attract the visitors.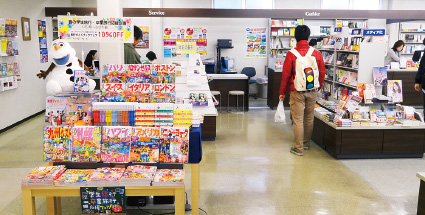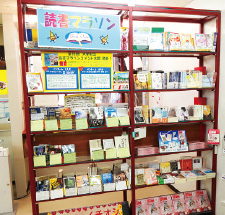 Brief Profile
Okamoto Campus Bookstore
Re-opened in November 2014.
Location: Higashinada-ku, Kobe
Faculty: Faculty of Letters, Faculty of Economics, Faculty of Business Administration, Faculty of Law, Faculty of Intelligence and Informatics, Faculty of Science and Engineering
Population of campus: 9,000 people
Bookstore
Floor space: 200 m2
Hours: Weekdays 10:00 – 17:00, Saturdays 10:00 – 13:00
Average number of users: 150 – 200 people/day