Business Activities
Dining Hall

Supporting healthy life of students through delicious food and smile!
A university co-op supports everyone's healthy diet through cafeteria operations. We also conduct many events, such as food fairs, to promote exchanges in the dining hall. In addition, we put a great deal of effort in dietary education activities.
Activities
Meal Card & Meal Coupon (Healthy Meal Ticket)
With the support of a healthy diet, students and parents will feel secure!
There are 114 university co-ops that adopted meal card and meal coupon as an initiative to support students to eat properly. It is a card charged with a certain amount of money, which can be used in dining halls. Some university co-ops report the content of meals to parents.
University co-op cooperates with public transportation to provide a service that allows students to use their transportation IC card at the dining hall. The amount charged can be converted and used as cafeteria point. A lot of university co-ops in Kanto and Koshinetsu districts use Gaku Pass.
Cafeteria Fair
A fun fair created with members!
A lot of unique events are held in each university co-op, such as Cafeteria Fair and Local Food Fair. These events act as a place for members to interact with each other.
Gakushoku Dot Coop
A search system for cafeteria menu!
Gakushoku Dot Coop is a system that enables its users to search any menu and its details. A user can put the food he/she ate at the co-op cafeteria to the virtual tray to check the nutritional value, amount of energy and price.

Tokyo Business Association
Dietary Education Activities
We support students' dietary independence!
The staff of university health center together with a registered dietitian from the university co-op hold diet nutrition consultations and health fairs.
7 key focus points of dietary education activities
❶ Enjoy your meals ❷ Eat balanced meals ❸ Be knowledgeable about food  ❹ Cook by yourself ❺ Visit production areas ❻ Value Japanese food culture  ❼ Think critically in regard to abundant information on food
Dining Hall Renovation
We renew our dining facilities for a more comfortable campus life.
For students, a university co-op is a welfare facility that is essential to campus life. Know-how and ideas that have been built up by university co-op for more than 60 years are reflected in these facilities. Currently, the renovation of dining halls is progressing rapidly.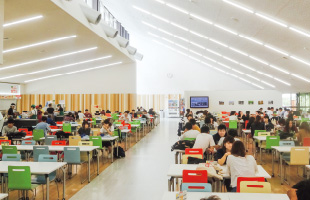 Azabu University Co-op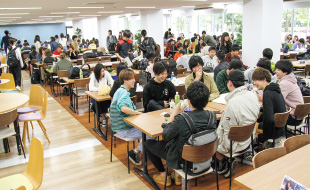 Tokyo Gakugei University Co-op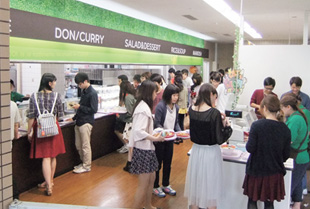 Saga University Co-op
Staff's Voice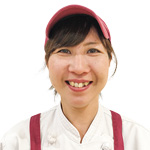 If you want to eat at the university, please leave it in our hands!
We support students (some of them just began live on their own) by developing menus and providing safe food in order to get them in habit of eating proper meal.
(Yoshihiko Tamura, Dining Hall Manager, Kinki University Co-op)
Member's Voice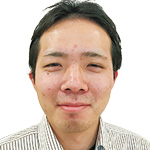 A co-op's dining hall is a place for students to communicate!
 I always use the dining hall to have lunch or snack while chatting happily with my friends. The nutritional balanced-food is also attractive, and acts as a strong ally for students who tend not to eat properly.
(Seichiro Nakao, Kinki University)